Giving Your Time
Volunteer Opportunities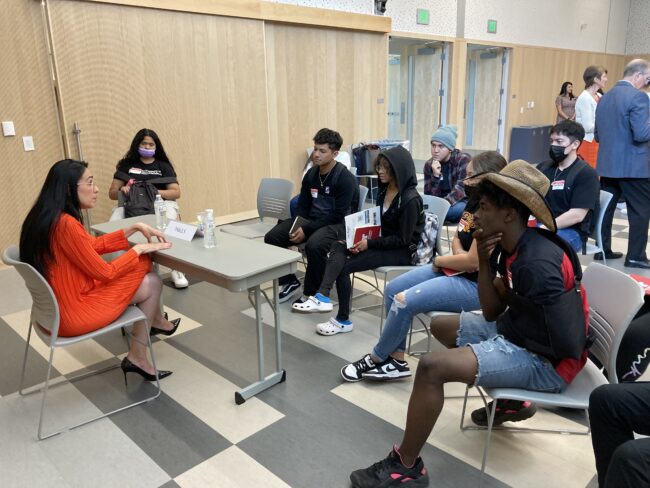 Communities In Schools of Nevada is looking for Volunteer Tutors in Clark, Washoe, Elko and Humboldt Counties!
Lend a hand to make a difference. All subjects are requested, Grades K-12.
Share Your Skills
Volunteering with CIS of Nevada
When you volunteer with Communities In Schools of Nevada, your efforts have a direct impact on Nevada's students who are vulnerable to dropping out and are disproportionately impacted by conditions such as hunger, homelessness, emotional trauma and lack of access to basic healthcare, to name a few.
Think about it this way: you have a unique set of skills, whether it's what you do for a living, how you spend your free time or just the way you look at the world around you. Now, imagine sharing and transferring some of that hard-earned knowledge with the future members of your own community.
That's exactly the sort of impact you can have when you volunteer with Communities In Schools Nevada.
Whether you have a few hours or are interested in a long-term commitment, we have opportunities for you. Your generous support will help us serve nearly 90,000 Nevada students at 92 high-need schools. Get started by scrolling to the school district you would like to volunteer in and filling out the volunteer application form for that area.
Can't Volunteer? Donate Instead!
Not everyone can give their time to work directly with students, but a financial donation can also go a long way. Help give Nevada's underserved students a fighting chance today!
Donate to CIS
What Qualifications Are Needed to Volunteer?
Beyond a background check, your enthusiasm and willingness to volunteer is paramount.
What Will I Do When I Volunteer?
Whether you speak to a class of high school seniors or help plan a fundraising event, you're making a difference. In other words, what you do as a volunteer is largely up to what you're willing to do!
How Can I Learn More About CIS?
Join us to see our impact firsthand inside schools. Visit with our staff and students to learn how CIS is working to surround students with a community of support, empowering them to stay in school and achieve in life.
RSVP Now
Are There Other Ways to Help Out?
Volunteering can be challenging for those who are not available during the school day. Even if you don't have time to volunteer, you can make a huge impact with a donation. Learn more about the big difference a small contribution can make.
Volunteering with CIS of Nevada